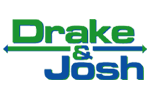 Drake & Josh is an American sitcom shown on the Nickelodeon television network, starring Drake Bell and Josh Peck who play as the two stepbrothers. Both stars had already played roles in The Amanda Show, as had Nancy Sullivan, who played Audrey in the show. Jonathan Goldstein played their father, and Miranda Cosgrove played their little sister.
Drake & Josh, was, in some ways, a spiritual successor to a show Dan Schneider had previously worked on, Kenan & Kel. Both featured a smart character, with a skinny and absent-minded character for their friend.
Plot
Drake & Josh focuses around the lives of Drake Parker (Drake Bell) and Josh Nichols (Josh Peck), two teenagers who become stepbrothers when drake's mother, Audrey Parker-Nichols (Nancy Sullivan), and Josh's father, Walter Nichols (Jonathan Goldstein), get married. Drake is portrayed as a somewhat simple, lucky, and Josh. is portrayed as sensible and nerdy.
They are often harassed by Drake's younger sister, Megan Parker (Miranda Cosgrove), who constantly pulls pranks on the two. Walter is portrayed as a clumsy and out of date meteorologist, and Audrey is more stern, being the one to usually punish Drake and Josh. Throughout the series, Drake and Josh face various ordeals involving school, jobs, girlfriends, and other average teenage ordeals. Later on in the season, nearly every time they go somewhere, bad things will always happen to them, mostly because of Drake's stupidity.
Related pages
Community content is available under
CC-BY-SA
unless otherwise noted.